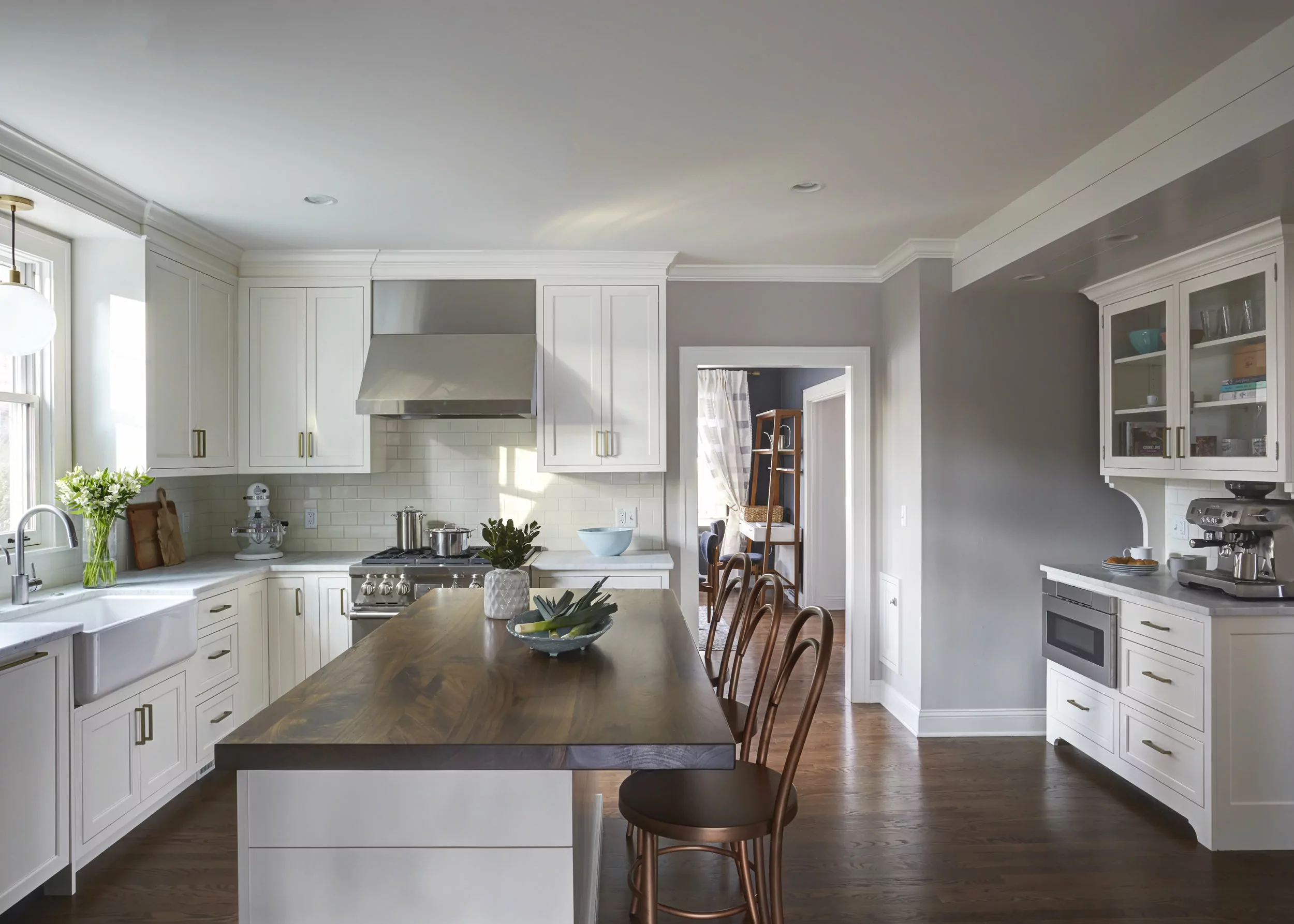 We had never worked with an interior designer before we began our kitchen remodel project. Our home was built in 1921 and the kitchen had been remodeled sometime mid-century but had already become really outdated and worn when we purchased the home a few years ago. We love the original charm of our home and really wanted to restore the kitchen's look to honor the home's age but also find ways to add modern touches that reflect our personal style. We also wanted to open up a wall between the kitchen and an addition space at the back of the home to gain a larger kitchen space.

We wanted to work with a full-service designer who would also function as GC and handle all logistics from start to finish. And we wanted a kitchen "expert," who had lots of experience and could foresee every possible option/choice for what we could incorporate into our space. From the beginning, we absolutely loved working with Susan and her team! Even in the very first conversation we shared, we felt like they really listened and tried to understand our vision and priorities. They got to know our personal style and design preferences and then elevated our ideas to an even better finished space than we could have imagined! Susan presented us with three very different floor plan options for our remodel, which varied in price and scale, giving us clear choices for how much we wanted to take on financially and logistically. We were so impressed with what she had imagined for our space, and she had come up with an option to add even more space than we expected if we wanted to remodel an adjacent bathroom at the same time. We decided the extra cost was worth every penny and have not regretted that choice even for a moment. We can't thank Susan enough for her problem-solving skills in helping us reimagine and then execute our new floor plan!

Susan was very direct and clear with what we could expect of the project from start to finish. There were no changes in cost or design that we did not feel we understood and had the right to approve or not. The project finished on time exactly as projected, and would have actually finished a bit early if we had not found some HVAC and plumbing "surprises" in our old home when the walls first came down. Susan and her team even blew us away with how they handled those "surprises," by reacting with urgency to keep the project on track and help us manage those surprise costs. Everyone warned us that working with contractors on a project like this would be really difficult, and that we should plan on it taking twice as long and costing twice as much as we had planned. That could not have been more opposite of our experience! We did end up spending more than we'd imagined at the beginning but only because of those unexpected (but forewarned to be likely) findings behind our walls and because we decided to add a bathroom remodel to the project.

The Kitchen Studio's contractor team was incredible to work with. We have been pretty lucky before in managing our own projects to work with good contractors, but we were blown away by the craftsmanship of Chris, Susan's carpenter, as well as the rest of her team. Everyone was polite, conscientious, and very respectful of our family life with our daughter. They were friendly and pleasant, and truly made the remodel the best experience it could be for us! We absolutely love our new spaces and enjoy our updates every single day. We highly recommend The Kitchen Studio of Glen Ellyn and definitely plan to work with them again ourselves!

— CAYT O.
Before: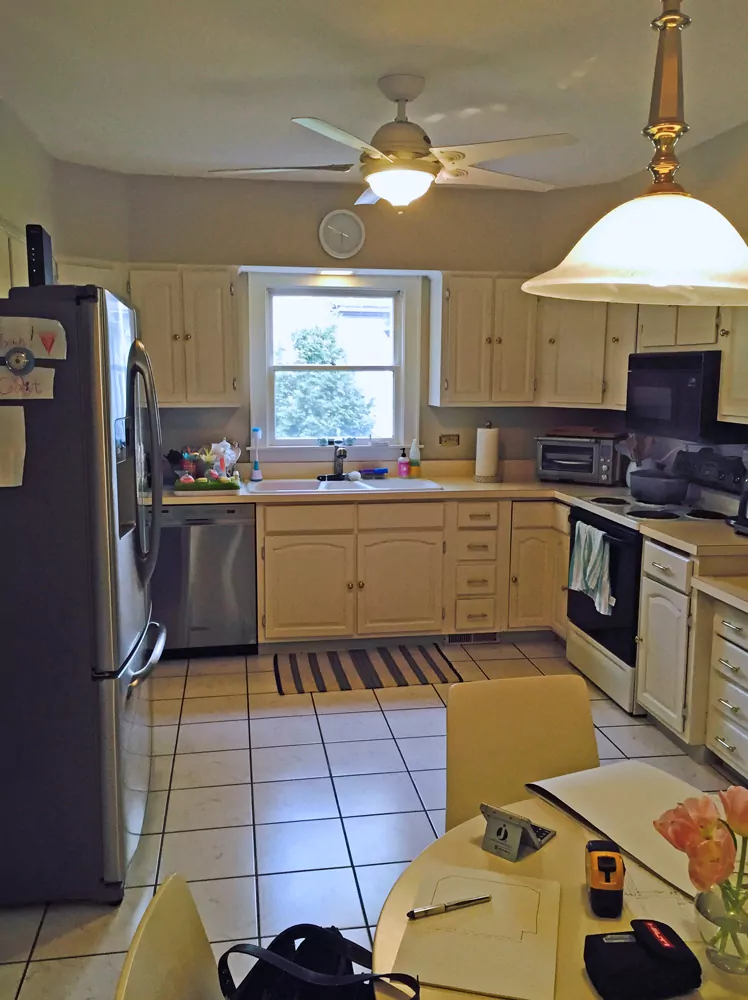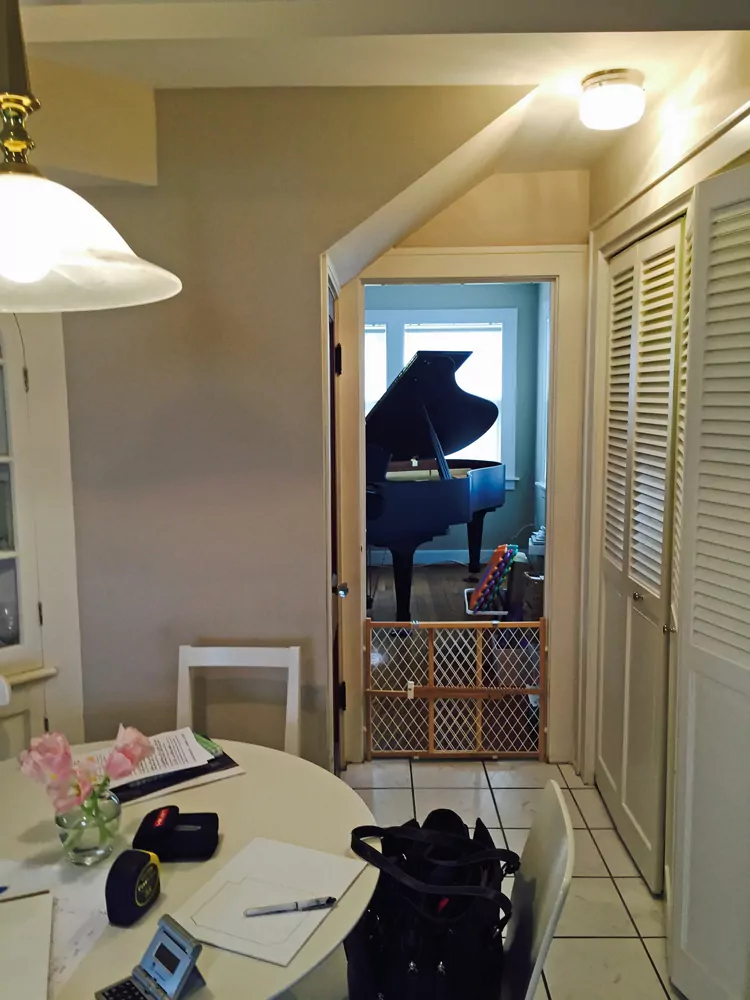 To create a better flow, we borrowed an unused desk area from the adjoining hallway and reconfigured a neighboring bath. Getting it to work on paper was fairly straightforward, but there was a bit of complicated beam work involved as the new kitchen flows through what was an old exterior wall. The new ceiling is now completely flush as we were able to hide the support in the ceiling joists.
A new, larger window was added at the sink, the doorway to the dining room was widened and the resulting space creates a better connection from dining room to family room.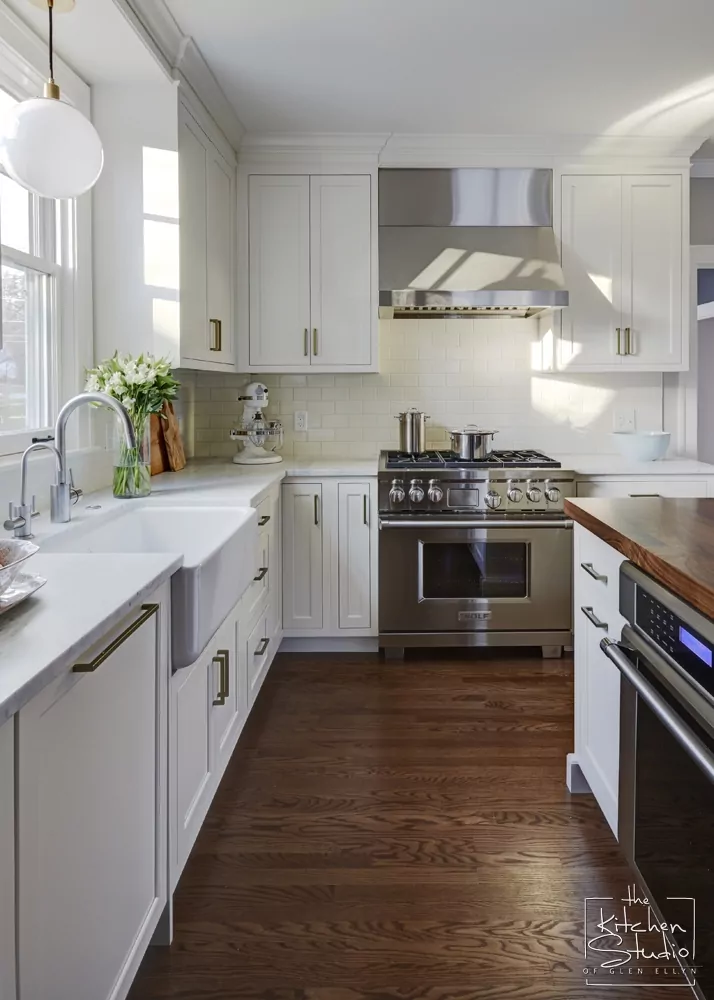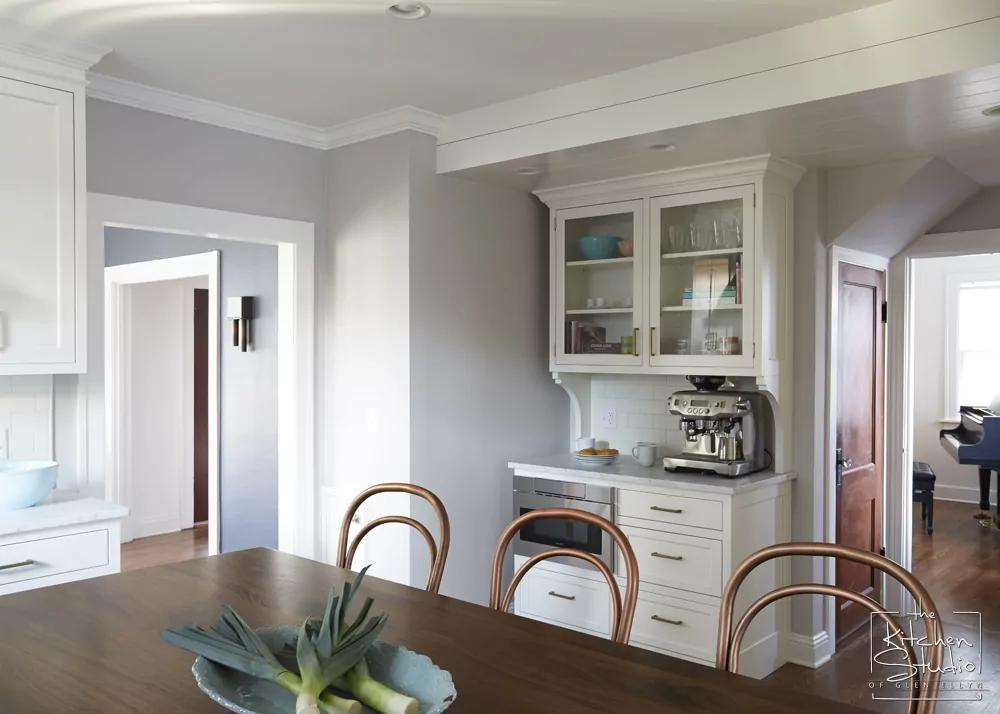 White inset cabinets, white marble tops and an apron sink keep the space feeling simple yet original to the home's traditional styling.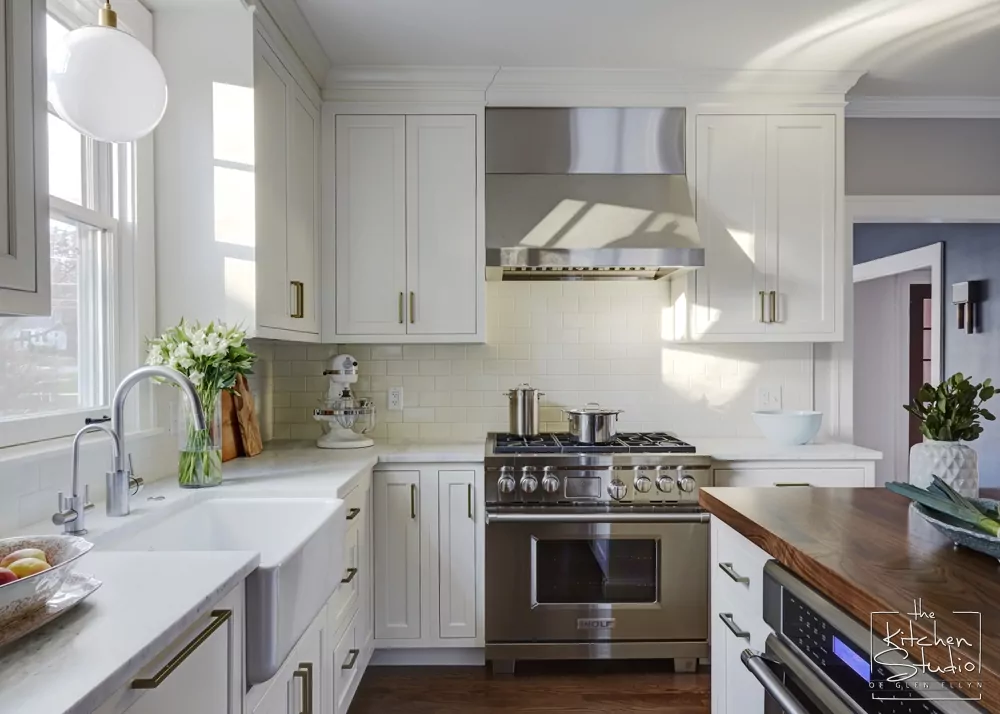 Ship lap siding on the back of the island and at the pantry storage ceiling, a walnut butcher block, and antique brass details give the space a fresh updated look.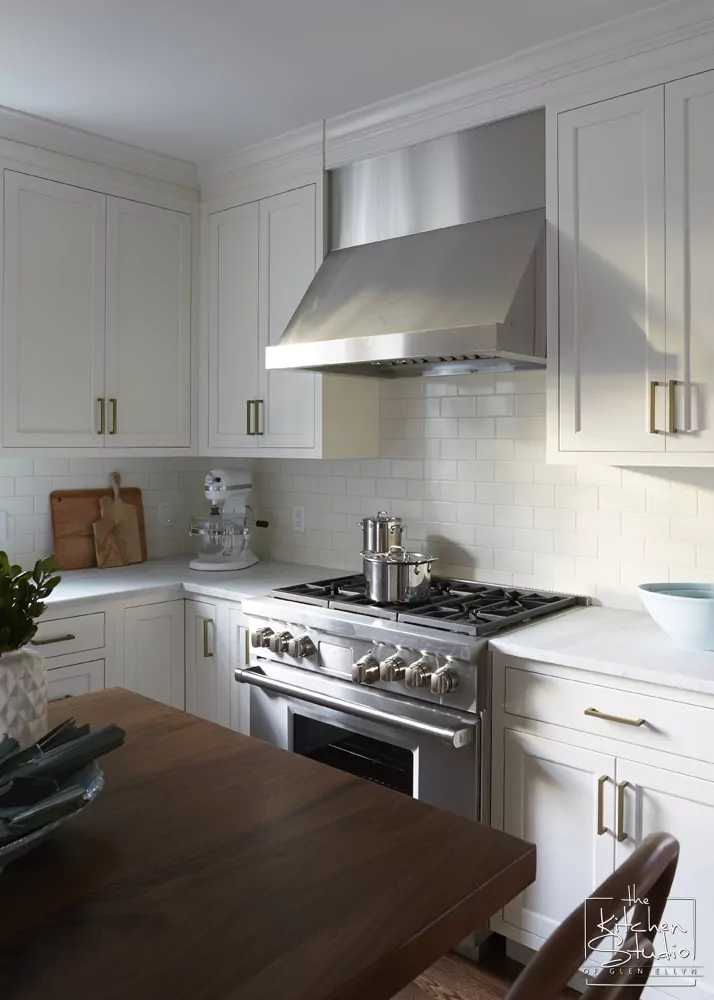 Professional stainless appliances are functional and beautiful. In addition to the large built-in fridge and 36″ range, a second oven is housed in the island for flexibility.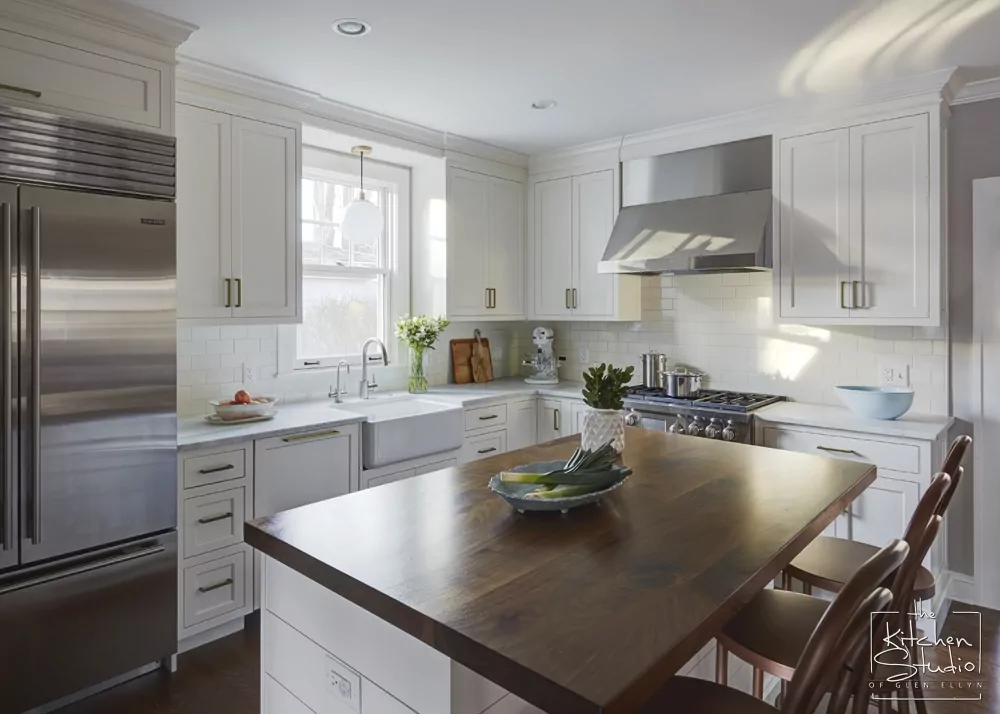 The pantry area has a convenience station that houses the family's espresso machine along with the microwave drawer. Another large bank of cabinets in the same area serves as pantry storage for dry goods.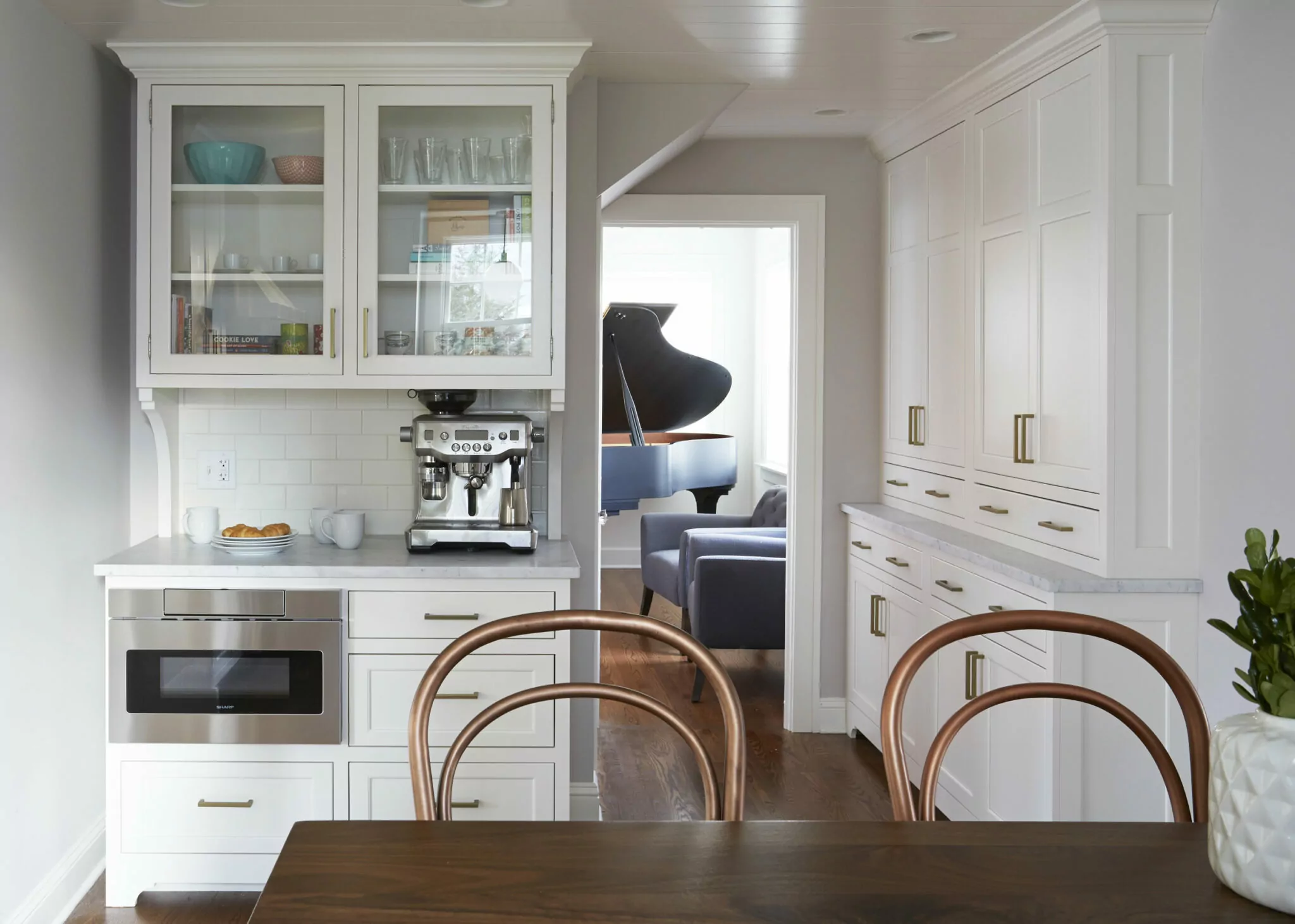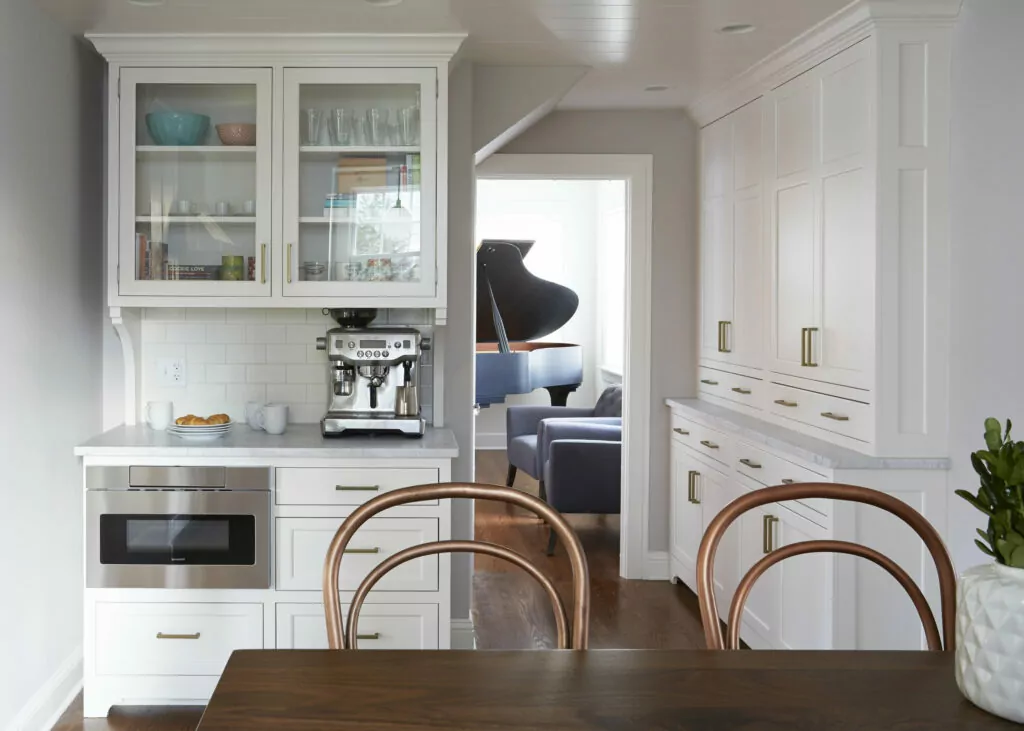 The bathroom was also remodeled as part of this project. The full bath has a vanity, shower and convenient baby changing area.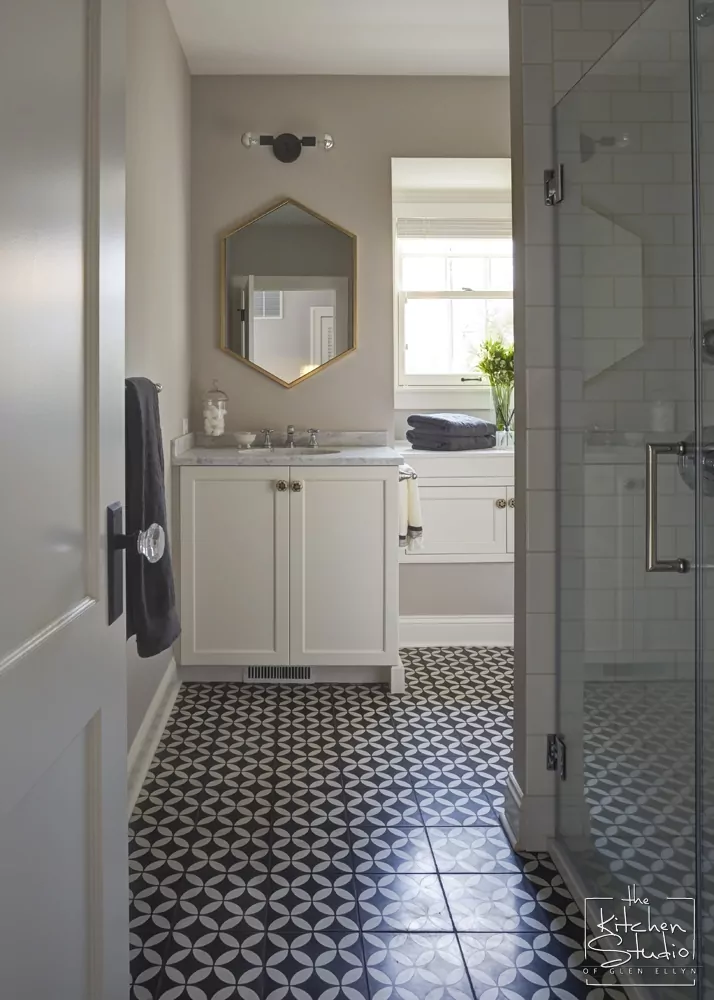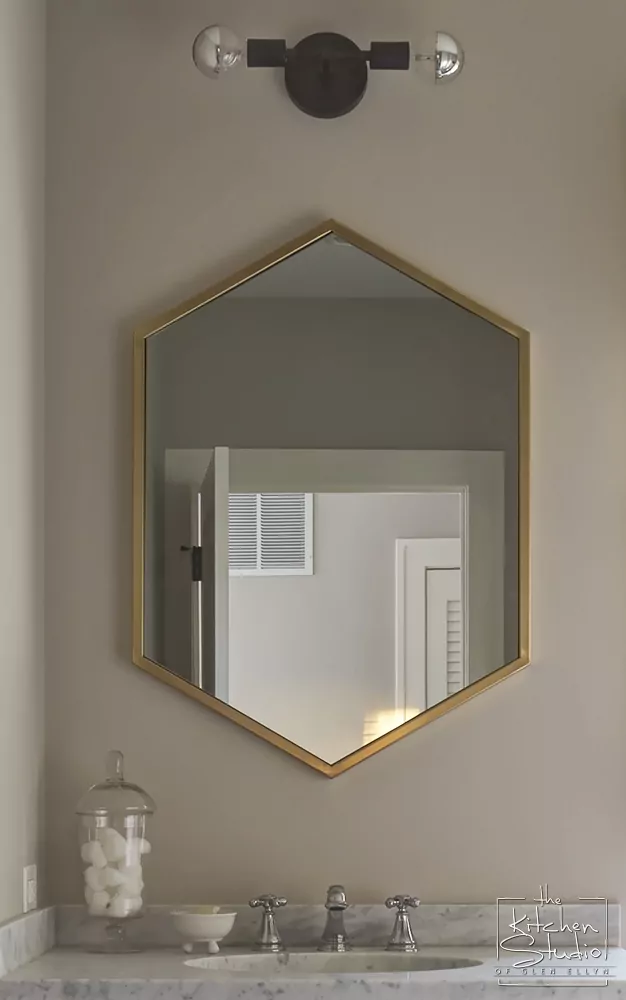 The floor is encaustic tile, a type of concrete tile recognizable by its bold graphics. The pretty hexagon mirror and industrial sconce add modern touches in line with the owner's personal style.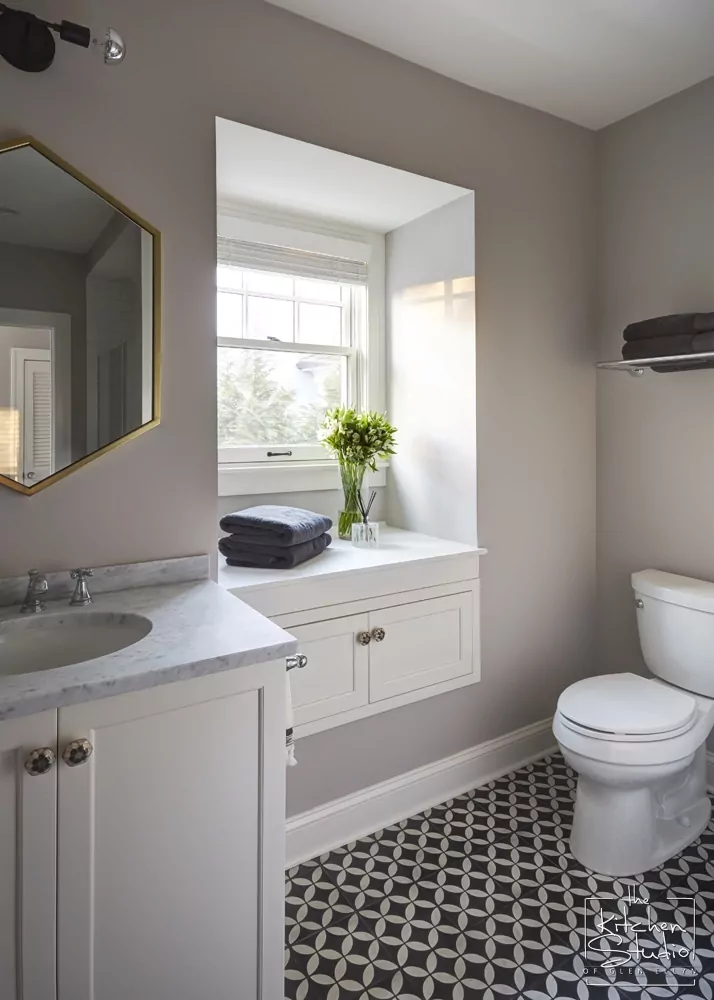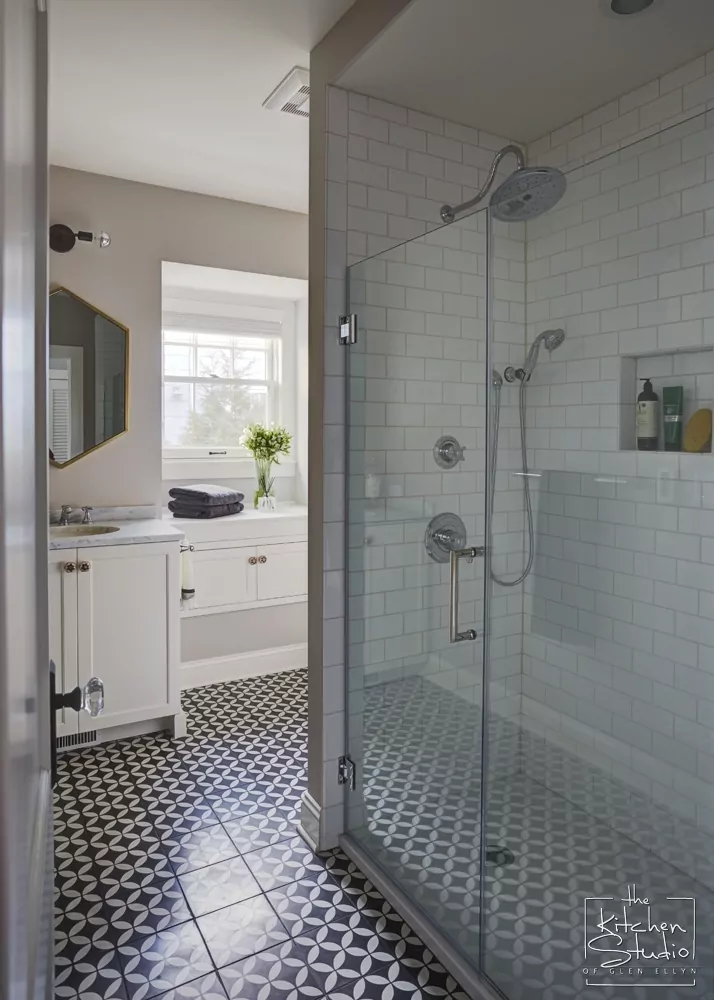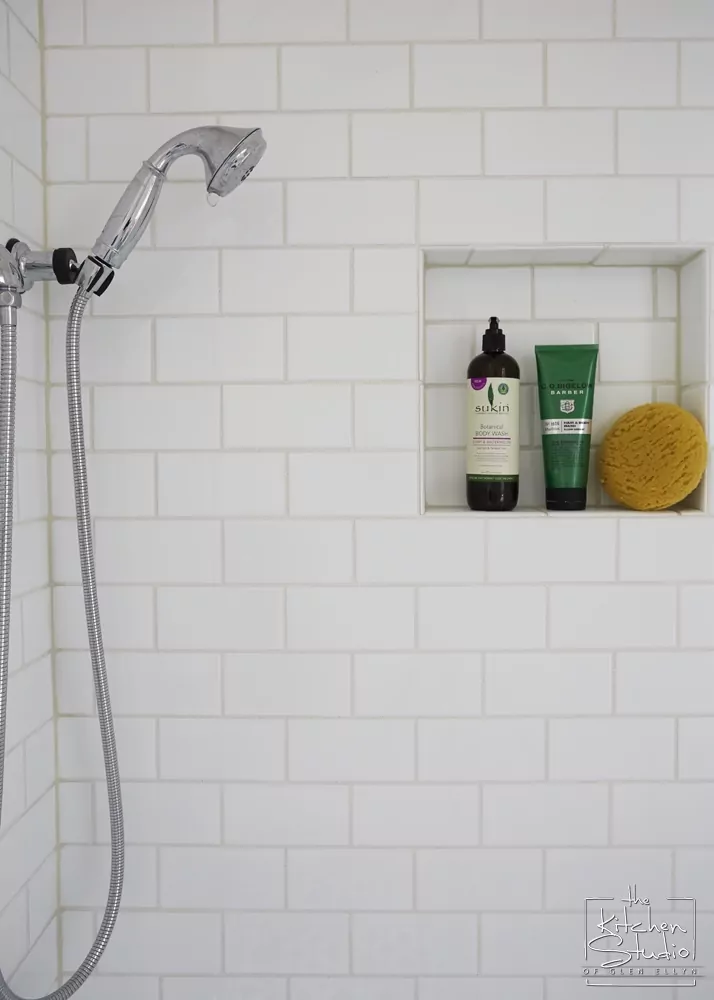 More before photos: